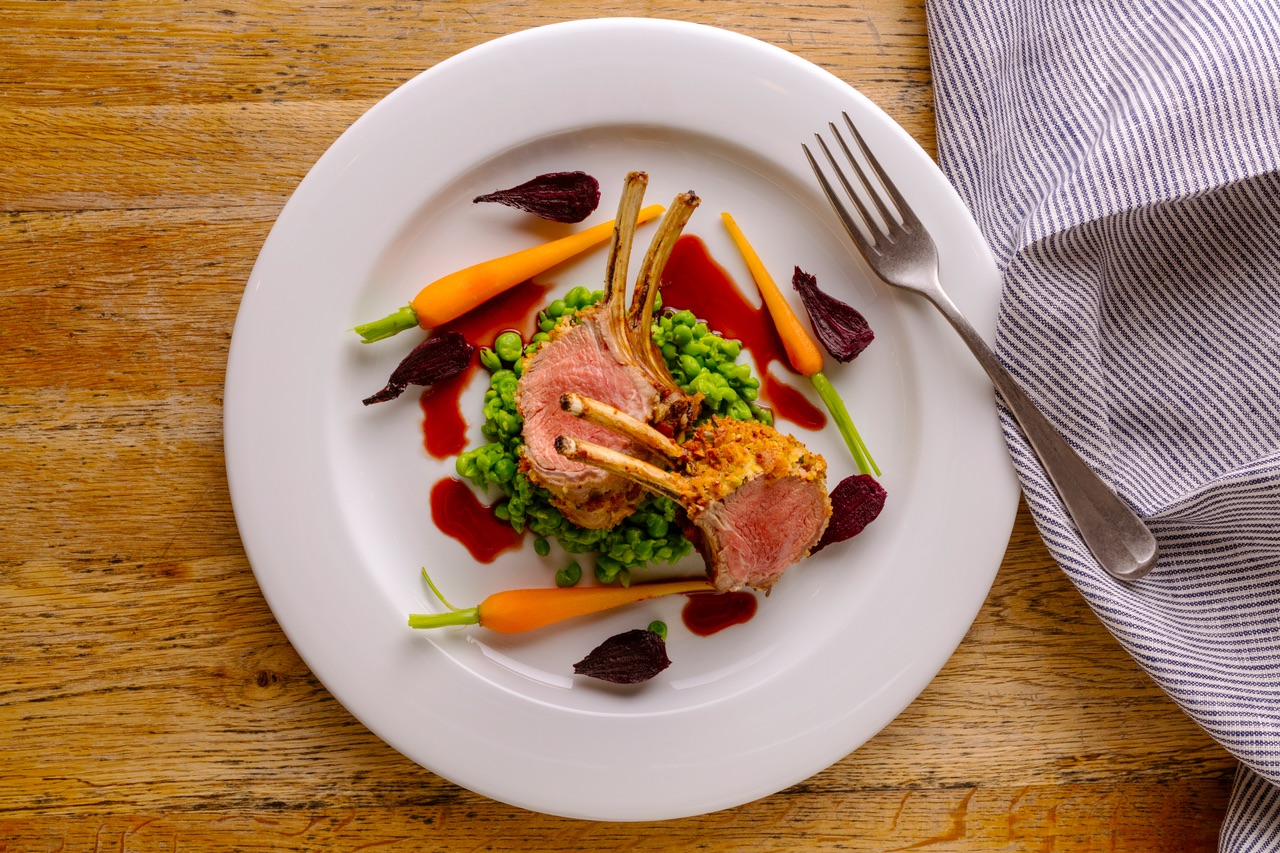 Ingredients
Lamb racks
5 Tbsp olive oil
2 Tbsp wholegrain mustard
1/2 cup bread crumbs
3 cloves garlic, peeled
1/4 cup fresh Italian parsley, roughly chopped
1 Tbsp fresh rosemary, removed from stalk
Roast vegetables
300g baby carrots
200g baby beetroot, halved
2 Tbsp olive oil
Red wine jus
2 Tbsp butter
1 onion, finely chopped
1 cup red wine
1 sprig fresh rosemary
1 bay leaf
1 cup beef stock
Smashed peas
500g frozen peas, defrosted
1 large handful of mint, finely chopped
2 tsp purewasabi paste
1 to 2 Tbsp olive oil
squeeze of lemon juice
salt and pepper to taste
Method
Roasting the lamb racks and vegetables
Preheat oven to 200C. Season lamb racks with salt and pepper.
Heat 3 Tbsp olive oil in a frying pan. Sear each rack on all sides until browned, about three minutes. Place on a plate to cool slightly.
Place breadcrumbs, garlic, parsley, rosemary and rest of olive oil in the food processor. Blitz until combined and divide into two portions.
Spread mustard over the cooled lamb. Pat each portion of breadcrumb mixture over each rack, pressing to adhere. Place racks on a baking tray.
Toss baby carrots and beetroot in olive oil and season with salt and pepper. Spread around the lamb, put the baking tray in the oven and roast for 20 minutes.
Making the red wine jus (can be made in advance)
Melt butter in a saucepan over low heat. Add onion and sauté for about 10 minutes until golden and caramelised.
Add wine, rosemary and bay leaf. Simmer until the sauce has reduced by half, about 10 minutes.
Pour in beef stock and simmer until the sauce and reduce by half again, about 15 minutes.
Strain the sauce and season with salt and pepper.
Making the smashed peas
Take a large heat-proof bowl and place a colander inside. Place the peas in the colander. Pour boiling water over the peas, letting the water collect in the bowl, and stand for two minutes. This quick blanching method helps the peas retain their vibrant green colour.
Take the colander out of the bowl (careful, it's hot!) and leave the peas to drain.
Transfer the peas to a medium bowl, add the rest of the ingredients for the mushy peas and mash well with a fork or potato masher.
To assemble the dish, dollop some pea mash on a plate. Carefully layer lamb cutlets on top and surround with the roast vegetables. Lastly, drizzle with the red wine jus.